Persaingan memang memanas, namun Steam sepertinya berhasil mempertahankan predikat sebagai platform penjualan game PC digital teramai di tahun 2020 ini. Dengan angka user aktif yang kembali memecahkan rekor beberapa waktu yang lalu, ia terus tampil relevan berkat kebijakan harga regional dan periode masa diskon menggiurkan, terutama di pergantian musim. Maka seperti kebiasaan akhir tahunnya, Valve juga merilis data-data internal terkait penjualan game-game di Steam. Salah satu yang paling menarik tentu saja yang berhasil tampil sebagai yang terlaris, dengan catatan pendapatan kotor tertinggi dari platform ini. Siapa yang berhasil menguasai di tahun 2020 ini?
Valve baru saja merilis daftar resmi soal game-game terlaris Steam selama tahun 2020, yang kemudian dibagi ke dalam beberapa kategori yang berbeda. Beberapa kategori ini dibagi lagi ke dalam beberapa tingkat sesuai dengan jumlah pendapatan kotor yang diraih: Bronze, Gold, Silver, dan Platinum yang sayangnya, tidak dijelaskan secara mendetail berapa total pendapatan yang dimaksud. Adapun game-game terlaris Steam untuk tahun 2020 tersebut adalah sebagai berikut: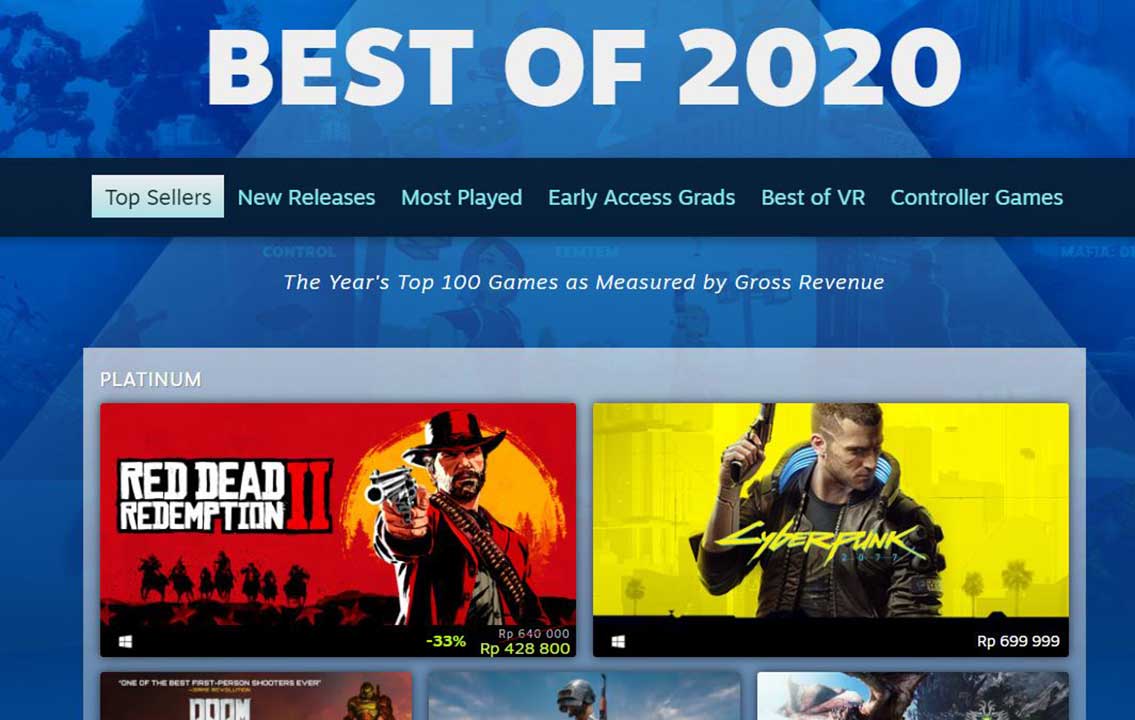 TOP SELLERS (Platinum)
Among Us
Counter-Strike: Global Offensive
Cyberpunk 2077
Destiny 2
Doom Eternal
DOTA 2
Fall Guys
Grand Theft Auto V
Monster Hunter: World
PlayerUnknown's Battlegrounds
Red Dead Redemption 2
Tom Clancy's Rainbow Six Siege
NEW RELEASES (Tanpa Ranking)
Baldur's Gate 3
Borderlands 3
Command & Conquer Remastered Collection
Crusader Kings III
Cyberpunk 2077
Death Stranding
Doom Eternal
Dragon Ball Z: Kakarot
Fall Guys: Ultimate Knockout
FIFA 21
Football Manager 2021
Grounded
Half-Life: Alyx
Horizon Zero Dawn Complete Edition
Mafia: Definitive Edition
Marvel's Avengers
Microsoft Flight Simulator
Mount & Blade II: Bannerlord
Persona 4 Golden
Resident Evil 3
Sea of Thieves
Star Wars: Squadrons
Temtem
The Outer Worlds
Wolcen: Lords of Mayhem
MOST PLAYED (Jumlah Pemain Bersamaan Tertinggi)
Among Us
Counter-Strike: Global Offensive
Cyberpunk 2077
Destiny 2
DOTA 2
Grand Theft Auto V
Life Is Strange 2
Monster Hunter: World
Mount & Blade II: Bannerlord
PlayerUnknown's Battlegrounds
Terraria
EARLY ACCESS GRADS (Game-Game Early Access Tersukses)
Deep Rock Galactic
DJMAX RESPECT V
Factorio
Golf With Your Friends
Hades
Noita
Risk of Rain 2
Skater XL
Torchlight 3
Wolcen: Lords of Mayhem
BEST OF VR (Platinum)
Arizona Sunshine
Beat Saber
Blade & Sorcery
Boneworks
Half-Life: Alyx
Hot Dogs, Horseshoes & Hand Grenades
Pavlov VR
Pistol Whip
Superhot VR
The Elder Scrolls V: Skyrim VR
The Walking Dead: Saints and Sinners
VR Kanojo
BEST CONTROLLER GAMES (Platinum)
Cyberpunk 2077
Dark Souls 3
Destiny 2
Dragon Ball Z: Kakarot
Fall Guys
FIFA 21
Grand Theft Auto V
Hades
Monster Hunter: World
NBA 2K20
Persona 4 Golden
The Witcher 3: Wild Hunt
Bagaimana dengan Anda sendiri? Game apa yang Anda beli via Steam di sepanjang tahun 2020 ini?
Source: Steam
Tags: